The other side of CMC's 150th anniversary silver coin – Sunday Times
By Kavan Ratnatunga
A commemorative Rs. 500 sterling silver crown size frosted Proof NCLT coin was issued on 2015 December 14 by the Central Bank of Sri Lanka to mark the 150th anniversary celebrations of the Colombo Municipal Council. It was minted by the Mincovna Kremnica, Republic of Slovakia.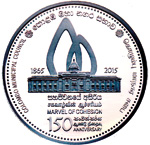 Obverse: In the center it carries the official logo of 150th anniversary with image of Colombo Town Hall with 1865 and 2015 above on the left and right. Below in Sinhala, Tamil and English MARVEL OF COHESION and at the bottom in large numeric 150 and ANNIVERSARY. The legend COLOMBO MUNICIPAL COUNCIL, with two lotuses to separate, the text in English, Sinhala, and Tamil, along the periphery.
Reverse: The face value of the coin 500 in large numerals above FIVE HUNDRED RUPEES in Sinhala, Tamil and English. On the top, SRI LANKA, in Sinhala, and to left and right in Tamil and English.
The frosted proof coin has been struck with one ounce of sterling silver to the British crown coin size. Enclosed in a clear plastic coin capsule, it is embedded in red velvet, inside a red leatherette covered 6.5cm square, spring hinged presentation box, with a white satin inside cover. It is accompanied by a numbered certificate of authenticity.
In terms of section 52 A (1) (a) and ( b) of the Monetary Law Act (Amendment) No.6 of 1998, with the approval of the Minister of Finance, the Central Bank issues commemorative coins and notes, and can sell such coins at a price higher than the specified denomination to cover cost of production. The CBSL has issued commemorative coins to mark various important events since 1957 Buddha Jayanthi issue.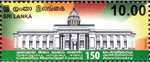 This is only the second occasion that a commemorative coin has been issued by CBSL for a non-national event. With on average only two commemorative coins issued every year over the last decade, it is not too many. However the very high cost of these silver commemoratives, puts them clearly out of affordability of most coin collectors. It is a pity that CBSL was unable to accommodate the request of CMC for a circulation commemorative coin. We can hope that CBSL will reserve some of the mintage of circulation coins to satisfy such requests in the future.
Unlike previous commemorative coins which were also sold by CBSL, except for few kept for CBSL museums, the complete mintage of only 1,000 coins have been issued to CMC, which was authorised to sell them at actual cost, as permitted by the Monetary Board of Sri Lanka.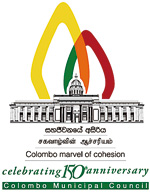 Coin was advertised by the CMC for sale to the public for Rs. 8,110 each. Quarter page color advertisements appeared in the state run English, Sinhala and Tamil dailies on November 23. Those who wished to obtain a coin were requested to make a reservation with the Colombo Municipality ID center(@ Town Hall,1st floor), by letter. Payment needs to be made to the Municipal Treasurer. The limited number of silver coins were made available on a first come first served basis. Public who have reserved a coin will be informed to collect the coin from the CMC after Monday December 21. Since the sale of a coin is a new task for CMC, they need to work out the logistics of doing so. They clearly should have left the task to the CBSL.
A colourful ceremony was held on December 14 at the municipal grounds sponsored by the Colombo business community at cost of Rs. 250 million. Around 250 of the silver coins were given to former mayors and 50 foreign mayors who were invited to attend the ceremony. The rest of the coins are being sold to the public.
A Rs.10 postage stamp was also issued at the same time, overriding a long standing Sri Lanka Post stamp issue policy, which does not authorize the issue of a stamp for any organization, for which a stamp had been issued previously. A stamp was issued for the CMC centenary in 1965.
A double page advertisement and a five page supplement appeared in the Ceylon Daily News of December 14. Included was a quar ter page article for this coin, which I found to my amazement, had been copied verbatim from my webpage at coins.lakdiva.org, without copy editing and probably even reading it.