Lanka's first silver rupee – Sunday Times
Lanka's first silver rupee
By Dr. Kavan Ratnatunga
After almost 15 years in the vaults of the Central Bank, surviving a bomb blast in 1996, the first and probably last Silver Rupee from Sri Lanka, issued after decimal currency was introduced in 1870, has now finally been released by the Central Bank of Sri Lanka.
In January 1992, a one rupee cupro-nickel coin was issued into circulation by the Central Bank to commemorate the third anniversary of the induction of President Ranasinghe Premadasa. An additional 2,500 coins were minted in proof condition, with another 2,000 in silver and a hundred in gold struck at the Royal Mint. Previously 40 gold coins had been minted in 1978 for J. R. Jayewardene of that rupee coin. The silver and gold coins were never issued to the public and were given as gifts by the Presidents.
President Premadasa's untimely death in May 1993 left a large number of the silver proof coins in the vaults of the Central Bank. The public could see just two of each on display at the Central Bank Museum in Rajagiriya.
Although coin collectors eagerly sought the silver and gold coins issued for the first two executive Presidents of Sri Lanka, they were practically impossible to find. A few of the silver are known to have been offered for sale for over the price of a gold sovereign. The Sri Lanka Numismatic Society made many requests for the release of the silver coins, but no one really expected it to happen anytime soon.
A few weeks ago, there was a talk that the silver Premadasa coin has been released by CBSL, but this proved false. So when I got a phone call again on Monday I thought it was another false alarm. But it turned out to be true. Word spread rapidly among numismatic collectors, who rushed to the CBSL Museum on Tuesday, October 10 to buy these coins.
Priced reasonably at Rs. 750 each, very limited numbers were sold to collectors. Issued in the original green box they reflect a former era of Lankan politics.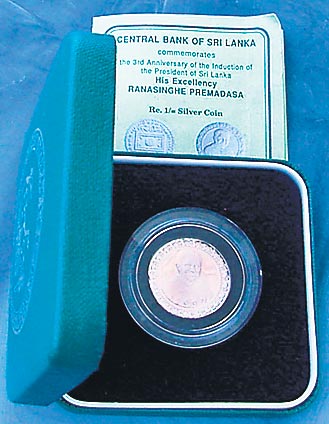 A Proof coin is minted without touching and should therefore never be taken out of the plastic capsule in which it is sealed. The coin is about 10% thinner to make it of the same 7.128 grams weight of the cupro-nickel coin.
Awaiting next week's release of a Rs. 2,000 currency note, it is clearly a last hurrah for the rupee coin, which has almost become too small and low a value to get back as change.
(The writer maintains an educational website on 2300 years of Lankan coins at http://lakdiva.org/coins/)